The Embassy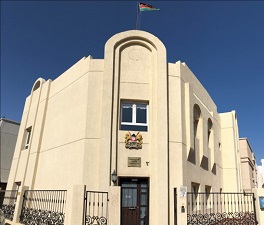 The Embassy of the Republic of Kenya to the State of Kuwait began its operation in August, 2007. It was one of the new missions opened by the government of Kenya in a bid to increase strategic diplomatic presence in areas that had, hitherto, been unrepresented.
The Embassy is also accredited to Kingdom of Bahrain and the Republic of Lebanon. .
Our Mandate
To promote, project and protect Kenya's image and her interests within the state of Kuwait.
Our Vision
A peaceful, united and prosperous Kenya, participating fully in a just and equitable world.
Our Mission
To project, protect and promote the image, values and interests of Kenya in the state of Kuwait
---
Ambassador's Message
It gives me great pleasure to introduce and welcome you to this newly launched website of the Embassy of the Republic of Kenya in the State of Kuwait, with accreditation to the Kingdom of Bahrain and Republic of Lebanon.
The Embassy of the Republic of Kenya in the State of Kuwait was established in the year 2007 to promote and enhance bilateral relationship between Kenya and the State of Kuwait through effective diplomatic engagement. Over the years, Kenya and Kuwait have enjoyed a very cordial relationship. Kuwait has been a key and valued development partner to Kenya.
One of the key mandates of the Embassy is to articulate and implement Kenya's Foreign Policy focusing on developing and enhancing Kenya's bilateral relations with our countries of accreditation.
In June 2008, the Government launched the Kenya Vision 2030 as a long term development blue print for the country, with the aim of transforming the country into a globally competitive and prosperous nation with a quality life by 2030. This vision is based on three main pillars, the Economic, Social and Political Pillars.
With the evolving demands of the 21st Century diplomacy, Kenya's Foreign Policy is already on the path towards Economic diplomacy. The Embassy is contributing to the achievement of the Vision 2030 through effective diplomatic engagement with all stakeholders.
The following services are provided by the Embassy of the Republic of Kenya in the State of Kuwait:
Promote Kenya's economic interest in the State of Kuwait.
Prop up and enhance cordial and friendly relations between Kenya and the State of Kuwait.
Marketing Kenya's products with competitive advantage within Kuwait consumer markets.
Facilitation and coordination of all bilateral negotiations with Kuwait and implementation of ratified Agreements.
Encouraging participation of Kenyan Diaspora in national building.
Tapping job opportunities in Kuwait and countries of accreditation for Kenyans.
Providing consular services.
H.E. ALI ABBAS, MBS AMBASSADOR
---
Embassy Officers
H.E Ali Abbas Ali (The Ambassador)
Ms. Margaret W. Mwirigi (Head of Chancery)
Ms Eunice Mwaura (Administrative Attaché)
Mr. Sifa K. Karisa (Financial Attaché)
---
Working Hours
The Mission working hours are from Sunday to Thursday
Office Hours : 08:30 am till 4:00 pm